QUATRO pack
With QUATRO MAX, we offer you the best experiences combining internet, television, mobile and landline services. Unlimited access to 400 Mbps Internet, and one inclusive EXTRA TV of your choice!
Your consumption
NET
From 125 to 400 Mbps…
Adapt the Internet to your life!
Thanks to the VOO cable technology, the whole family enjoys broadband internet at the same time. And with no download limit.

Music and movies in streaming, online video games, voice assistance, etc. Our Internet meets your needs today and tomorrow.
See internet conditions
Stop searching, start watching!
VOO TV+, finally the TV that adapts to your tastes! VOO TV+ gives you access to all the TV entertainment you love on all your screens (70 channels, TV EXTRAS for fans of films, sport, documentaries, cartoons, etc.).
The more you watch TV, the more it adapts to your tastes. It's just magic!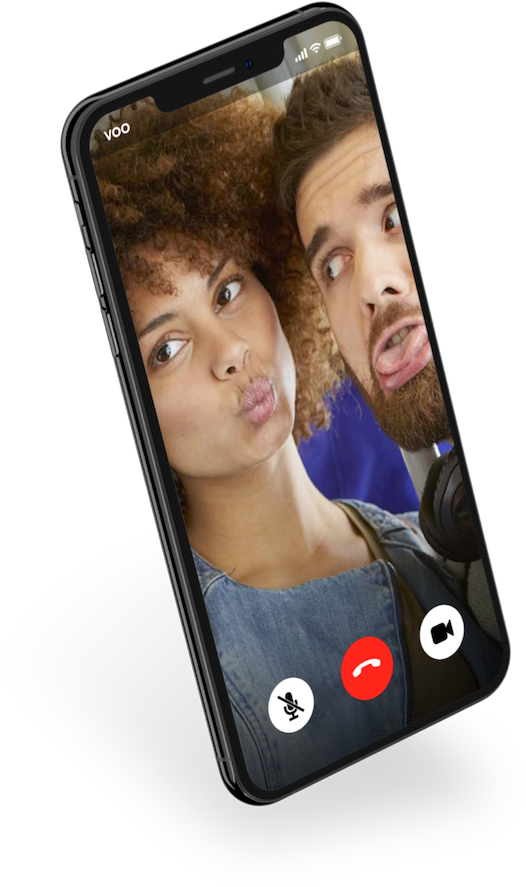 mobile
The mobile that offers
more
for less
\
QUATRO from VOO, also means unlimited mobile. So that you never lose touch with your loved ones.
Unlimited calls and texts
included*
12€
Per additional SIM €14 if you are RELAX QUATRO* .
Get an extra 5GB on your SIM card, which can be extended to 13GB or 30GB.
See mobile conditions
landline
Unlimited landline calls.
Yes, that too.
With our landline offer, your national conversations also know no boundaries. No more off-peak and peak times! With the quatro from VOO,you can call landlines (in RELAX mode) or landlines AND mobiles (in MAX mode), at any time of the day or night!
included in your MAX

quatro
Unlimited
To landlines and mobiles in Belgium
2000
minutes/month
to landlines abroad
In the RELAX
quatro
, the INTERNATIONAL OPTION and the LANDLINE TO MOBILE OPTION are €7 and €15/month respectively
See landline conditions
| | | |
| --- | --- | --- |
| Download | 125 Mbps | 400 Mbps |
| Upload speed | 6,5 Mbps | 20 Mbps |
| Download volume | unlimited | unlimited |
| Extra volume | - | - |
| Modem | Included | Included |
| | | |
| --- | --- | --- |
| 70 channels | Included | Included |
| EXTRA TV | not included | The choice is yours: Be tv or VOOsport World or Family Fun |
| 1 One free film per month | Included | Included |
| Set-top box .évasion | Included | Included |
| Cable television | Included | Included |
| | | |
| --- | --- | --- |
| Calls & Texts | unlimited | unlimited |
| Data plan | 15 GB | 15 GB |
| | | |
| --- | --- | --- |
| National landline calls | unlimited 24/7 | unlimited 24/7 |
| National mobile calls | paid service: 15 €/month | unlimited 24/7 |
| International landline calls | paid service: 7 €/month | 2000 minutes/month 24/7 |